Room no.4 – Cromwell.
Our most romantic room. Dominated by a superking bed with a large plush headboard, it is decorated with hints of soft reds and ornate wooden furniture. With its sloping ceilings, we have created a warm, inviting and unique room for you to enjoy.
Named after Oliver Cromwell, Lord Protector of the Commonwealth of England, Ireland and Scotland. The iconic face of the parliamentarian forces during the English Civil War, he was a principal commander of the New Model Army at the Battle of Naseby (June 1645) together with Thomas Fairfax. Although he had no formal military training, he was a clever strategist and was able to rout the Royalist forces, rescuing his son-in-law, Henry Ireton, and other prisoners in the process. After the Royalist army was defeated, he was the force behind King Charles I's trial. Following the king's execution, he became the military and political leader of the newly formed Commonwealth, later styling himself 'Lord Protector'.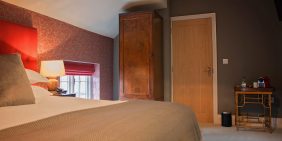 Features
Super king or twin beds.
Crisp cotton bed linen & duvet.
Widescreen flat TV.
Coffee, tea & biscuits.
Complimentary Wi-fi.
En-suite bathroom with shower.
Heated towel rail.
Complimentary toiletries.
Price
From £99 per night per room.


Breakfast included.